"Like Virginia, Florida remains too close to call. There Obama leads Mitt Romney at just 48 to 47 percent–less than the polls margin of error of plus or minus 3 percent."
If you're following the election polls, you're accustomed to hearing a reporter announce the poll results along with a margin of error, and then telling you whether or not the results are statistically significant.
Their use of the phrases margin of error and statistically significant is mathematically accurate but highly misleading.
Margin of error measures one very specific type of risk:… Continue reading →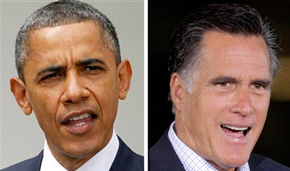 The latest Pew Poll shows that only 64% of Governor Romney's supporters expect their man to win, and only 17% expect their man to lose. 82% of President Obama's supporters expect their man to win, with only 3% expecting him to lose.
In theory, the question of who should win and who will win are independent. In practice they're not.
Four factors contribute to this:
We like thinking our side is going to win. [Our preference affects our expectations]
We tend to support the candidate we expect to win. [Our expectation affects our preferences.]
The information sources we listen to… Continue reading
Pubcon was great! Here's the best from the conference:
Best lines
Jerry West: SEO will never be dead until Matt Cutts says the new algorithm is paid search. [On the one year anniversary of Leo Laporte's PubCon keynote prediction that SEO would likely be dead in six months]
Matt Cutts: Think of the link disavowal tool as like a chainsaw. Respect the tool.
Sanjay Sabnani: Some of you already noticed the slides have nothing to do with what I'm saying. For the rest of you, you can look at me now.
Ruth Burr:

On July 13, in making the point that other people contribute to our success, President Obama uttered the phrase "You didn't build that."
It was immediately clear that the Republicans would – fairly or unfairly – attempt to build their central narrative around those words.
InTrade and Nate Silver project that the president will win re-election. If he doesn't, we may be wondering whether or not his reaction to the Republican "We did build that" response cost him the election.
Here are the keys to recovering from a reputation management crisis.
Understand the other side
Even if we're to accept… Continue reading →

[Update: In a repeat of the Dictionary.com acquisition five years ago, Answers.com was the first to reach a tentative agreement, but Ask.com closed the deal.]
I have fond memories of the Mining Company, which changed its name to About.com. They may have been the first big quality reference site on the web. They also may have been among the first to really understand how Google was changing the web.
Pre-Google, most of us used search engines to find a web site. So we'd search for a site about Health. Once on the health site, we'd look for… Continue reading →