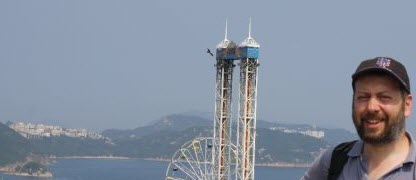 My wife and I are amusement park addicts. We were at Disneyland Hong Kong on Thursday. Beautiful. Magical. The next day we went to Ocean Park. Most things about Ocean Park are better than Disney. More and better rides. Unbelieavable view. Great animal exhibits and shows. Imagine Sea World built on the edge of a beautiful mountain overlooking a beautiful city and with great rides. And yet … not magical.
The magic got sucked out of Ocean Park by the long waits in the unbearable humidity. The Mine Train was a thing of beauty, a nice roller coaster at the edge of the mountain overlooking Hong Kong Island. But a 45 minute wait. More than half of that was downtime, where people were getting  off and on. And there were lots of single riders and empty seats.
And I couldn't help thinking that in Disney it would have been a twenty minute wait. And either air-conditioned and indoors, or with twice as many fans, or with cool mist circulating. And some sort of storyline or entertainment while waiting. They would have been running two cars, so that the unloading and loading could occur in parallel with the other car running. And single riders would have been able to cut ahead to ultimately reduce everybody's wait.
I still remember when I was at Disney when I was nine — what my parents couldn't stop talking about was the efficiency, from the moment we were directed to our parking spot, to the shuttles to the park, to the way the rides were operated. Logistics is the last place people look for magic, but that's where it often is.
The old line about how to sculpt a lion is that you sculpt away everything that isn't the lion. Same is true about magic. Find the pieces that aren't magical and get rid of them. Ocean Park had more positives than Disney. But they didn't sculpt away the non-magic.
Gumption Traps
In Zen and the Art of Motorcycle Maintenance, Robert Pirsig discusses "gumption traps," those things that suck all the life out of your day. You come to work all full of energy and desire to do good, and then a few things just suck it all out of you. As a manager and as a product manager, your job is to clear those traps from your employees and from your users.
Your Employees
I had a boss once who was instructing me how to fill out timesheets. And he told me about one time a few years earlier that he had put in many hours of overtime culminating in an all-nighter completing a project, and then he took the next day off. The company charged him with a vacation day. It's 15 years later and I bet he's still angry about it. It may be one of the reasons he quit a bit later.
Another co-worker years later still had hatred for our boss because she felt he underpaid her because she was a woman.
And these are at the relatively good places. And the company may not even be technically wrong in these cases. But the feelings of betrayal that the employees feel many years later is very real. And again, these are the mild perceived slights, I'm not discussing the real horror stories.
There are a lot of things that make a place a magical place to work: great product, great co-workers, good pay. Some places add gourmet food and all you can drink. But the most important place to start is to remove the non-magical elements, the small acts of frustration or perceived betrayal that your employees will never forget.
Your Product
Your first goal is to find the spots in your product that are driving your users crazy. Fix them. Similarly, just as with amusement park rides, focus on the bottlenecks in the system.
With WikiAnswers people are always dying for cool and useful new features, and we have our hands full just scaling through the growth. Whenever I have a choice on where to prioritize, I err on the side of removing frustrations. That includes performance, and some bug fixes. We have great community leaders talking to our most active users and reading the forums, to find out our users' greatest frustrations. We use the product ourselves and keep track of what stops us from being happier and more productive with it. We do some user testing (not as much as we'd like).
Every now and then I see some widget or some bells & whistles that a competitor released. And part of me hurts that they did it first. And the other part of me says OK, so that's what they were doing while we were removing our users' biggest frustrations.
Most of creating great products and great teams isn't about the magic you put in. It's about the obstacles to magic that you take out.
Logistics isn't cool, fun, or sexy. You don't brag about it to your family or even to your board of directors. But strangely, that's where the magic lives … or dies.
—
This post is an expansion of an idea first expressed in Mickey Mouse Organization: Lessons to Learn and Unlearn from Disney