I'm making my SMX speaking debut on Sunday at SphinnCon. And next month I get to present at SMX Toronto.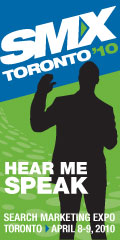 Just learned that a perk of speaking and blogging about it is I get to share a 15% discount code to SMX Toronto, so just use (REICH15 [update: for SMX Toronto 2011 use discount code GREICH11] when registering.
Vanessa Fox, who was named Best Moderator in Best of PubCon, will be moderating my SphinnCon session. A few hours ago she finished wrapping up SMX West in San Jose by speaking at a similar session on  Social Media, Search, and Reputation Management. Our session is Online Reputation Management and I'll be joined by Sam Michelson, Shira Abel, and Dan Gerstenfeld.
At SMX Toronto, I'll be speaking at the Real Time Search, User Generated Content and Social Networks session. Jeff Quipp will moderate, and I'll be with Barbara Coll and Rob Garner.
My presentation will be about Using Q&A sites to Grow Your Business & Reputation. I'm looking forward to it! Quite nervous, though. I think my biggest challenge will be keeping my speaking speed under 200 words per minute. Though I wonder. Would that be a good gimmick? Doing a minute of the presentation at my full speed? Would be fun, like those old FedEx commercials. Only downside is nobody would understand a word I'm saying. Though sometimes that's a good thing. 🙂
Post Script: The SphinnCon presentation went pretty well. Quite nervous at first, and apparently I was too loud. But one of the other speakers told me how happy she was that she didn't have to follow my presentation, so I thought that was a pretty cool compliment. Now I can learn a few lessons and give a better presentation in Toronto. The video of My SphinnCon presentation on YouTube, thanks to Lea Aharonovitch.