Tis the season to let other people deal with peace on earth and goodwill towards man. I'll stick to what interests me: conflicts & sarcasm. Counting down the top SEO smackdowns of 2009:
#5. Barone v Godin: Brandjacking?
The provocation: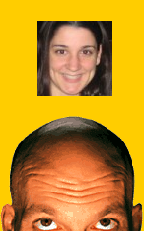 "Squidoo has built several hundred pages, each one about a major brand. More are on the way. We'll keep going until we have thousands of important brands, each on its own page … If your brand wants to be in charge of developing this page, it will cost you $400 a month." — Seth Godin, Launching Brands in Public
The reply:
Many came out against Godin's initiative, none more powerfully than Lisa Barone:
"[Seth] has sent his team of goblins out to register your Brands in Public company page for you, fill it with scraped content (blog posts, tweets, Google News, Trends, etc) and then lock it down so that you have absolutely no way to touch or control it. Unless you pay him.

Four hundred dollars. A month.

Wow. I'd personally like to welcome Seth Godin to the world of brandjacking and hostage taking. I didn't know you had it in you."

— Lisa Barone, Seth Godin Tries Out Brandjacking
I'm including this as an SEO smackdown because that might have been the key issue here. People Googling your brand name were often going to find the pages that Godin put together. Godin was going to show these Googlers all the nasty things being said about you on the internet — unless you gave him $400 a month.
This whole thing would likely have received very different coverage had there been a clear and friendly free opt-out from the beginning.
The final irony was that Godin has arguably been the leading proponent of interacting with your tribe, and his sales pitch for this product included:
"You can't control what people are saying about you. What you can do is organize that speech. You can organize it by highlighting the good stuff and rationally responding to the not-so-good stuff."
And yet in some critical ways the man who talks that talk better than anyone doesn't walk the walk. Had Godin allowed comments on his own blog he'd  have had a fighting chance of influencing the conversation the conversation that followed. Or if he used Twitter the way everybody else does, for a 2-way conversation engaging his tribe. But Seth uses blogs and Twitter to broadcast, not to interact. The conversation took place on Lisa Barone's blog, where she and her tribe — which includes key members of the SEO industry — crushed him.
More of my thoughts on this issue here: The Barone – Godin Smackdown: Is the Torch Being Passed?
Next: #4 Arrington vs Demand Media