What a week for content farms!
Here's the brief overview: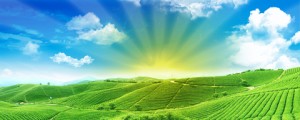 On Friday Matt Cutts acknowledged some influential bloggers' criticisms that Google had a faustian deal with Content Farms that were making Google worse. IMO Matt's statement boiled down to:

You're wrong, Google is getting better, not worse, and we keep trying to keep up with "users' skyrocketing expectations"
You're wrong, these sites aren't spam
You're wrong, Google doesn't give better rankings to sites that run AdSense
We hear you though, and now that we've made so much progress on spam we'll turn more attention to "content farms" which we define as "sites with shallow or low-quality content." Google made two big changes in 2010 to combat these sites.

A slew of bloggers and journalists came out with posts covering Matt's post. Most celebrated that Google was finally going to knock out sites like eHow (which BTW, apparently gained traffic during the 2 changes Matt talked about), and that this would cripple the Demand Media IPO. Here are 2 more insightful posts (IMO) on the issue: Michael Martinez's What is a content farm? and Aaron Wall's Google gears up for relevancy changes.
Demand Media had their IPO, which was even more wildly successful than most expected. It ended its first day with a market cap of $1.9 billion.
Mahalo did a second pivot from their "human powered search" model. They didn't even acknowledge their previous ridiculous claims of Mahalo 2.0's overwhelming success (not). They announced that they're doubling their staff this year and will be creating 2,500 videos per week in a model that seems copied directly from eHow.
Stack Overflow gave their 2010 year in review. More on that on Monday. Short answer is that they're doing a great job creating content for programmers and other computer enthusiasts and professionals. They're not successful yet moving beyond that, but they may not have to be.
Nobody calls Stack Overflow a content farm but I include them here to try to define what a content farm is and isn't.
The term "content farm," like the term SEO, is often used by its critics to refer to every spammy tactic that they don't like, or that cause other sites to rank above theirs.
Stack Overflow and eHow both meet the following criteria often used to identify content farms:
Creates thousands of new pages every day
Gets the vast majority of its traffic from Google. You might even say they view Google's results page as their site's home page (Stack Overflow co-founder Joel Spolsky in fact did say this).
Content-creation mechanism naturally creates pages where demand has been identified.
The term "content farm" was coined to refer to the systematic and efficient creation of thousands of in-demand pages every day. eHow does that. So does Stack Overflow.
Matt Cutts just defined content farms as "sites with shallow or low-quality content." By that definition, I don't think they're going to punish eHow. Neither does the stock market.