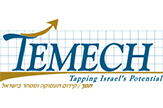 Everything is different in Jerusalem. Temech's 6th annual conference for entrepreneurs, for example, is geared to religious Jewish women. No men allowed.
The conference is a mixture of divrei Torah, which I'd call life lessons from the Torah, and practical business lessons that can help you advance. Even the divrei Torah are focused on how to succeed in business.
In some ways it's a very different world than I'm used to. When one of the speakers asked everyone to turn off their cell phones, I was astonished. How were we supposed to tweet and facebook and instagram everything that was going on? I guess social media wasn't really right for this crowd of people, most of whom had "Kosher" phones.
The theme of this conference was about story telling, specifically how to tell your own story. Rabbi Dovid Kaplan started off talking about the strength of speech. How we need to understand it. That the way to judge a person is by how others speak about them.
Nir Barkat, a highly successful entrepreneur, my husband's former boss at BRM, and currently Mayor of Jerusalem, talked about how Jerusalem is being developed for economic growth. His advice was to learn the market that you are in and find your competitive advantage. Jerusalem has a competitive advantage for tourism, health service and high tech. A new industrial center will be opening by the entrance to Jerusalem. It will have thirteen 35-floor buildings which will bring jobs and growth to the city. The number of startups in Jerusalem has more than quadrupled since he's taken office.
The most dynamic speaker was Idit Neuderfer. In her session, The Redhead Technique, she spoke about how to make yourself stand out. It's not enough to have an elevator pitch which quickly tells people what you do. You need something to stand out in a crowd. What people remember are stories that they can digest and bring back to memory when they need a service. If you create an emotional connection to people, if you provide a service that they need, they will think of you. Bring them in to your story.
Laura Ben David emphasized starting with a plan. If you don't stick with your plan, that's OK. Having a plan gives you focus. You can rewrite your plan as you need to. People have ideas all the time. Most people don't act on them because of fear of failure. It's OK to fail. It's OK to be afraid, just don't let it stop you from what you want to do.
It was an excellent conference. I look forward to going again next year!