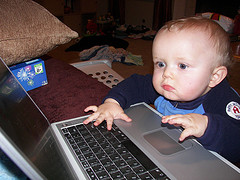 Rand Fishkin started a nice debate when he attacked the old canard "For SEO: Design for Users not Search Engines." Rand blasted that as terrible advice. Search Engine Land attacked this twice: Danny Sullivan took Rand on in the comments section, and Jill Whalen blasted him in her weekly column, saying that Rand's piece "could potentially set SEO back at least at decade."
Danny's argument with Rand was more limited, and IMO they're both right around the same place on the issue, but they differ over which side's extremists scare them more. Danny makes a good point IMO that the first piece of advice to a novice is to first focus on the user experience, and not on advanced SEO tactics. Danny's last paragraph I think largely restates Rand's point without Rand's dogmatic and challenging (read: linkbaiting / comment-baiting) tone: "Where the user advocates go wrong is overstressing this as a good, fundamental piece of advice and being all hardline that you never act as if there are search engines. Of course there are, and of course you do things specifically for them as well."
Jill Whalen, perhaps playing the same linkbaiting / comment- baiting  game as Rand, paints Rand as the extremist and takes the other extreme herself. She misrepresents Rand as saying "he called putting your users first, 'utterly false and tragically misleading.'" when in fact Rand admitted that "SEO starts with the user (of course)." Rand's central point is "SEO is a task that requires paying close attention to the needs of both users and engines." He does not claim, as Jill suggests, that SEOs should ignore the needs of the user. Jill then really goes hyperbolic when she worries that Rand could have set SEO back a decade. No offense, Rand, but if you want to set SEO back even a few weeks you're going to have to do a lot better than this.
Rand presents nice charts but I'd like to focus on a case study of my company, Answers.com, because this is an issue that I grapple with daily. I'm sorry Jill, but it's not as simple as you make it sound, and I'm glad Rand started a discussion on this issue.
Here's where I agree with you, Jill:
Probably the most important driver of our company's success is the first experience  of the user who arrives from a search engine. If that user bounces back to Google too often and too quickly Google may frown upon our fine site. For the same reason, if a Google engineer role-plays as a Google user following a Google link to our site, I need him or her to be satisfied with the experience.
That may sound the same as "focus exclusively on your users" but it's far from it.
First, you need to think through the actual flow that's driving your business. Note in the bullet point above I only mentioned the satisfaction of the user who arrives from a search engine, and even there I'm most concerned about his or her first experience.
A funny thing follows. On the UGC portion of our site, that user's experience is primarily determined by the quality of the content on the page he or she lands on. It happens that to increase the first experience of the Googler I may need to compromise the user experience of other users (or users on other pages) to drive those users to improve the content that the Googler is going to land on.
Let's discuss our Category Pages. Googlers rarely land on them. So they're effectively optimized for 2 things: driving users who land there to improve the content that Googlers do land on, and to get our content pages indexed and ranked. Similarly, our home page and our internal search results pages have trade-offs between the user satisfaction on those pages, how those pages' users can increase the satisfaction of the users who get to our content pages, and (in the case of the home page) how that page drives page rank to our content pages.
Even on our content pages, we're most concerned with the key driver of the user's satisfaction, the quality of the content on that page. But what about the footer, for example? When Matt Cutts announced at SMX Advanced that Google had changed its approach to internal NoFollow, I knew we were going to have to reconsider our cool new footer. Did we really need 4 separate links to Legal pages? Separate links to our different downloads and webmaster tools? Should we just have faith that the tiny percentage of users who would appreciate the extra footer links would provide sufficient benefit to offset the cost of diluting our flow of page rank? Sorry, no.
Finally, if people think we can get 5 million Answered Question pages and millions of reference pages indexed just by focusing on the user and letting the SEO take care of itself … I'm sorry, but I think you're being naive.
In summary, I think most of the SEO community is on the same page. The first law of SEO is to satisfy the search visitor. But you're being simplistic if you think it ends there. Shameless plug: also see my YOUMoz post on the Zeroth Law of Writing for SEO., currently #2 in Rocking on YOUMoz.
What do you think?