OK, after a break, we're back at SMX Toronto with Personalized Search: Times they are a Changing…Yeah, but when?
David Dalka moderating.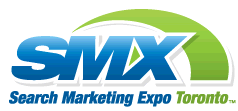 Rob Garner leads off.
Personalization is a significant shift from objective results to subjective results.
It impacts paid, natural and feed submissions.
You can add &pws=0 to turn off personalized search for that search. You can also turn it off throughout.
Ranking reports are no longer fully stable. You can take objective rankings using a proxy. Still doesn't tell the whole story.
Matt Cutts said back in 2007 that they feel they have an obligation to use all the data they have on us to improve our experience.
Google's Craig Silverstein referred to "search pets," the search that knows you so well it can give you what you want.
Optimizing for personalized results
Do the basics very well. Rob says that he was very pleased earlier when everybody on the panel said to focus on the basics.
Optimize for search with personalization turned off.
Build up your social networks.
Knowing your target audience is now more important than ever.
The web is evolving into a real time, synaptic, evolving network
Many marketers and brands are still resigned to a passive approach.
The current state of this evolution is not so much about "social networks" as it is about hitting a tipping point with a society that's networked.
People aren't just searching … they're searching and finding something Right Now.
A brand's identity must embody the spirit of its audience. If you can't do that, you can't succeed in social media.
Brands are now publishers. You have to be pushing out great content, on a large scale. This content is disseminated instantaneously.
As a brand, you are what is published about you.
It is a brand's obligation to listen and act on the data that is provided and available.
Your organization and audience are your primary networks.
And now Shari Thurow.
She hates Social Search. Wants Twitter to shut down.
Reasons for personalizing:
Ad Revenue
Save time
Better experience
Bing has done incredible work on personalization. And it does often lead to a better experience.
She's never given a client a rankings report, so she's happy that personalization is killing them.
She likes that Rob said to Go Back to the Basics, but she doesn't like the term basics, since SEO is hard. So she prefers the term Focus on the Fundamentals.
There are 3 different types of search:
Microsoft said that 33% of searches are navigational. Searcher is looking for a specific Web site.
Informational attempt. 63% – 80% [doesn't jive well with her 33% number for navigation]. The bounce rate on a quick fact page is very high. So bounce rate depends. [Some times, a bounce is a success signal.]
Transactional intent. These are the least common [but probably the most monetizable] They want to download, get a picture, video, product, etc.
3 query types:
Ambiguous
Broad or semi-ambiguous
Clear or known
The first 2 benefit most from personalization. The third doesn't.
Search Engine challenges:
Interpret searcher intent
Handling navigational intent. Re-finding keywords can be deceiving. Sometimes I just re-type the same keywords to get back to a site I found last time.
Accurate search / web history
Recency or freshness
Conclusion
She has mixed feelings. It can make it easier for searchers to find their desired content. But they'll get it wrong sometimes.
Stick with the fundamentals.
Also see CT Moore's coverage of the same session. [I think he's stalking me]
More SMX Toronto Coverage: