Next to last session at SMX Toronto: Optimizing Video: On Site and On YouTube
Manny Rivas from aimClear (hey, where's Marty?). OK, this guy looks funny too. Doing a good job of engaging a very tired audience.
What's your objective. Traffic? Monetization? Views and reach?
Views & reach is where it's at.
Why post on YouTube?
Free
Visibility: The videos in Universal SERPs are usually from YouTube.
Analytics: You can find out about your viewers through YouTube's analytics.
Building community
Ease of sharing: The embed code is very widely accepted
Promoted videos: You can send them to your channel instead of sending them to your watch page. So they get all your content, without your competitors' videos there.
Customizable
And now Peter Farfaras from Microsoft Canada.
Don't hold the user hostage to your site.
Which are you?
The fundamentals are the same
Brands should partner / integrate
Content should partner with many
Spend on SEO vs Cost to Develop
To YouTube or not to YouTube? [he is MSFT]
Questions:
Q: How can I get my video to show up high?
Manny: YouTube is a community platform. It revolves around making friends and getting them to share your content. You can define power users pretty quicky, they're out there to engage, so engage with them. The next time you publish they're more apt to share. What blogs are out there that might share your content.
Guillaume Bouchard (moderator): Does gaming YouTube still work?
Manny: Not as well as it used to, but sure. They look at all the numbers.
Q: Can you clarify how you engage?
Manny: Direct a message to them. Friend them. Don't just say "I like your stuff, here check out my video." You need to set up prior to having that content. Comment and provide value on the videos you want to rank with. It's like what we used to do with blogs. [Used to do?]
Q: Do replays, completion rate, etc. affect rankings?
Manny: I don't know. I assume so.
Q: Do you think it's easier to game on other sites like MSN and MetaCafe since they have smaller communities.
Peter: I think that's a great point. [He's ignoring the "gaming" issue.] A good campaign can get you farther with a smaller site. [Remember, he's a bit biased.]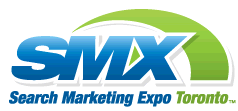 Q: Why wouldn't you do both?
Guillaume: You would do both. But if you're optimizing, you'll focus your effort somehwere. Same principle as with Digg.
More SMX Toronto Coverage on Managing Greatness: