John Mueller of Google & Miriam Schwab of illuminea presented their tips for optimizing mobile.
John Mueller
John led off:
Use your smartphone & tablet like the next generation will.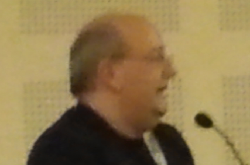 Don't wait with your mobile strategy. The mobile future is here.
Use Google Webmaster Tools to see how people are using it.
Watch out for common & critical mistakes.
Read Google's recommendations for smartphone websites.
Feature phones vs smartphones vs tablets. Need to specify to your developers & designers what you mean. We get this wrong at Google as well. Mobile is a very broad term.
Recommend responsive design. Helps us with crawling, no redirects. But consider your users first, and your existing infrastructure. Understand tradeoffs and implement correctly.
Recent change. User agent changed from Googlebot-Mobile to Googlebot for smartphones.
Don't cloak to Googlebot.
WMT is your friend. Verify all your sites and all mobile versions.
Check your inbox for messages, forward to email.
Check smartphone crawl errors.
Be fast. You only have one second to make a first impression!
Common problems:
Unnecessary interstitials.
Bad redirects
Unplayable videos
You don't have to wait for the year of the mobile any more. That already happened. Check out your website on your phone.
Miriam Schwab
Creating an SEO-ready web presence.
Kelsey Group: By 2015 mobile search will beat desktop search
60% of online devices are already mobile or tablets

Why responsive?
Pros: One link to rule them all. One analytics view. Future friendly for new devices. Easy to maintain.
Cons: May not target mobile specific keywords. Slow. Very hard to get responsive sites to load quickly. Feature phones. More than 10% of total mobile web traffic (though shrinking).
Responsive tips: Mobile is about user experience. Put important info up front. Keep it simple and focused. CTA buttons take up full width. Maybe mobile specific CTAs.
Consider letting people switch out of the mobile version.
Keep an eye on your mobile analytics for red flags.
Reading is annoying on mobile. Use more videos and images.
Don't forget about responsive email.
How does responsive impact SEO?
Launched new site with responsive in June 2013.
5 months after vs before. Organic traffic rose 48%. Which doesn't prove causation.
Mobile sales in Q4 2013 reached 16.6% of all online sales, up 46% from Q4 2012.
Revenue increased more than 500% on Android.
Don't break the Tablet experience. 1/2 the traffic of smartphone but double the conversions
Tablet users use sites like desktop so don't break it.