John Mueller finished off a great SMX Israel with a strong keynote.
Google is getting more personal with SEOs. We're reaching out to webmasters. We know what it's like when you guys try to get webmaster to make changes. We don't always reach them the webmasters. Make sure that in Webmaster Tools you set an e-mail address that you read.
You have no idea how often we tell a webmaster we're about to noindex you because you're doing this stupid thing and we can't get in touch.
The biggest problems we have are tech problems. Often webmaster trying to be too clever and giving confusing signals. SEO is not about technical tricks. Send clear, consistent and obvious signals!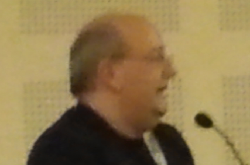 Monitor your site's important pages for 4xx, 5xx, noindex, rel-canonical & robots.txt
Some of the biggest changes:
Knowledge Graph
Voice
Conversational search
Google Now
Core quality & ranking changes
Hummingbird – understand the query better
Panda
Detecting & boosting authorities
Smartphone ranking. Demote bad results
Webspam:
Penguin
Spammy questions
Advertorials
Link-spam networks
Rich snippet / ratings spam
A lot of manual penalties.
Communication: Whole new section for hacked sites. Hangouts. How Search Works website.
Where are we headed?
Bigger picture:
Machine learning
Growth in mobile
Social / identity
Authorship – further reduction to relevant pages & authors
Rich snippets – more algo decisions
Security
Better at JavaScript
Mobile – Time for it is now
Structured data
Moving towards HTTPS / TLS for all sites. It's not a ranking factor yet, but users want a secure web. [This surprised a bunch on people, and John essentially repeated the point.]
Q&A highlights
Barry: If we move our sites to HTTPS will you give us back our keyword data?
John: We're trying on our side to make it easier to move your site to HTTPS. For example, let the same GWT profile just switch instead of starting a new one.
Guest blogging: If the links have NoFollow, or there are no links, then that's fine. [They're talking real tough on guest blogging.]
Disavowed links: Google doesn't look at your disavow file and say "that's a confession that those are bought links." We don't do that. We just say OK, we won't consider these links.
Barry: So how long the link building went on is a signal of whether or not you should be penalized?
John: The webspam team looks at this stuff manually. How long it's going on is usually a pretty good sign. It's less likely that a competitor has been building up your site for 5 years.
You can handle it however you want, it's your site. [I didn't catch the topic of the question, but it was such a classic Google answer]
If you got hit by a penalty for bad links you're probably looking at 6 months to a year to recover after you clean things up. So clean e/t up, don't leave some bad stuff behind.
—
And that's it! It was a great conference. Hope you enjoyed the writeups!
Also from SMX Israel 2014: