South by Southwest is a remarkable conference. The Interactive segment alone was nearly 5 crazy days with about 40 simultaneous sessions in each time slot. It included lectures by industry luminaries, celebrities, entrepreneurs and "ordinary" people with interesting ideas and perspectives to share.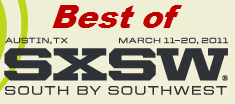 Here's the best from the 2011 conference.
Best Lines:
Guy Kawasaki:

The Apple group was probably the largest collection of egomaniacs in the history of California. Which is saying something.
I believe in G-d because that's the only explanation for Apple's continued existence.
A good speaker avoids going off-track. A great speaker can go off-track and come back. So let me show you this …
Your presentation should be 10 slides. Now you may say Guy, you had more. Well, you're not me.

Gary Vaynerchuck:

I needed to build an organization because I don't scale. Me, and the Beebs, and Gaga, we can't scale.
I love you because I view you as an end user, not because I'm Mother f-ing Theresa.

Jared Spool:

How many of you hate raising their hands in little surveys? OK, that's our margin of error.
This isn't rocket science. We know because NASA is one of our clients and we asked them what rocket science is and they said this is not it. So we thought brain surgery. We went to the NIH and it's not that either. We're now thinking pool cleaning. But with robots.

Barry Diller:

[About bubbles] All the money lost is lost by people who can afford to lose it, so who cares?
Sumner Redstone invented the Content is King thing. Because he had content. And he wanted to be king.

Senator Al Franken:

Some of you may not be aware that I used to be in comedy (used to be?)
My opponents, using a rhetorical technique called "making things up" (love 'em or hate 'em, he is funny)

Patrick O'Keefe: Thanks for coming to hear 27 fun ways to kill your community. Clever title, right? It was meant to get you to this session. It worked! But this session is really about something else entirely.
Matt Mullenweg (WordPress):

I take out my camera and take pictures of my food. It's rude, but I tell people I'm blogging, it's my thing.
Tumblr is great for pictures. Some say it's porn, but I think it's artistic.

Thomas Myer:

How many designers in the room? Cool. Can you help me on my site?
We make fun of @katebuckjr's stuff because it's so salesy. But she can't hear us over her Ferrari

Reid Hoffman: When people predicted the future they expected things like flying cars. I flew here on a plane courtesy of the Wright Brothers. With service courtesy of Darth Vader.
Steve Krug: I'll usability test the SXSW schedule. The technical term for this is "biting the hand that feeds you."
Chris Guillebeau: This session is called Fear and the Art of Creation, so I don't mind telling you, I'm terrified.
Phoebe Ayers: For everybody in the 7th grade now, Wikipedia has always existed.
Lora Kolodny: Content marketing is like sex in high school: everyone says they're doing it but many aren't, and those who do stink at it.
Best Exchanges:
Bing's Duane Forrester: You don't need ranking reports
Questioner: But my boss insists that we do
Duane: Tell him to Tweet me. I'll set him straight. I got your back.
Questioner: You said at the beginning of the session that you're trying to cut down on your profanity.
Gary Vaynerchuck: How'd I do?
Questioner: 21 F- yous, 37 assholes, 7 shitheads, and one dickface
[Laughter]
Gary: So I'm getting better.
Barry Diller: [asked about doing a publications for the iPad] I don't know why you'd do a specific project for any device
Poppy Harlow: Apple likes it
Barry: Apple likes it when you pay them
Barry: [on net neutrality] We need a law that no one can step between the Publishers and the Consumers
Poppy: Do you think this would be the end of entrepreneurship as we know it? (as Senator Franken implied in the previous session)
Barry: No, I don't think anything would be the end of entrepreneurship as we know it. Except in Libya if they kill all the entrepreneurs.
Poppy: Point taken.
Best Stats:
Philip Neustrom: Every day 1 in 6 residents of Davis, California visits the community wiki. Every month, nearly everyone in Davis. 1 in 7 residents contribute.
Matt Mullenweg: WordPress.org blogs went up 3% after Google's Panda update
Best Tweets:
@MktgValerie: #sxsw pick-up line: what's your hashtag?
@GreeterDan: I hate to tell you this, but he's fictional. Maybe time to stop drinking? 😉 RT @joshuanguyen: I just spoke to Don Draper OMFG
Best Stories:
Gary Vaynerchuck: One guy wrote that he was buying wine for his daughter's wedding. I called him to say congrats. He said, no, my daughter is 12, but it's such a good deal that I'm stocking up.
Best Logistics:
Yes, it matters.
Volunteers: There are volunteers everywhere, I think mostly university students on spring break, and they're extremely helpful (and friendly)
WiFi: Wow, huge conference, everybody is using the internet, and it works.
Biggest Disappointments:
Not enough power cords for geezers like me who are not using iPads or netbooks
Nobody asked Paul Reubens to prove he was in Texas
Best Lessons:
Marissa Mayer: When we're trying to launch a new product, engineers often say "this isn't good enough yet for the Google name." We say, no, that's how the Google name was built, putting cool new things out there and seeing how people respond.
Guy Kawasaki:

Trust others. You have to trust others before they trust you. Amazon, Zappos, Nordstrom through their return policies say I trust you. [Reminds me of a Joe Mantegna line "why do they call us con men? Because people have confidence in us? No, because we have confidence in people.]
Conduct a pre-mortem. If we ever have a post-mortem on this project, what are the most likely causes of failure that we'd be discussing.

Jared Spool: We compared successful companies with unsuccessful ones [at Web design]. The unsuccessful ones all told us "our problem is that we don't have a good process." But none of the successful companies used a process. The biggest problem for the unsuccessful companies was that they thought the right way to do this was through a formal process.
Reid Hoffman: In Web 1.0 we got data. In Web 2.0 we're creating data through social networking, blogging, even implicit data such as location. The next big ideas will involve using the data generated by Web 2.0 apps.
Steve Krug: When fixing problems, always do the least you can do  (courteously pre-tweeted by Krug himself).
For more in the series, see: