SMX Toronto was excellent. Here's the best of the best: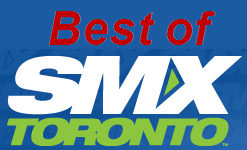 Best Lines & Lessons
Bruce Clay: In the future we're going to have to analyze the analytics and not just report it (hat tip: @saffyre9)
Dawn Wentzell:

If you're looking to convince your CEO not to use Flash, just tell him it won't work on his iPad.
If it's hard to get links in your industry, find something tangentially related.

Lyndsay Walker: If you have a small site or a few key pages, manually get rid of extra code that the template puts in.
Christine Churchill:

Click tracking can tell you what people are doing. To find out why you need to do live user testing.
As an SEO consultant the people whose design you're criticizing are probably the ones that hired you. So diplomacy is important.

Alan K'necht: Agencies like Flash because they can charge a higher markup for it.
Chris Sherman:

The Steve Jobs reality distortion device: "People aren't searching on mobile." Yes, they are.
Google says Panda only affected about 10-12% of the sites. Well, that's more than 100 million websites.
Google's efficiency with search saves us about 350 million hours per year (hat tip: @jason_faber)
Google Instant impacting user behavior. People are scanning. Page titles now matter a lot more. (hat tip: @aknecht)

Kate Morris: Often ignored truth: Getting Facebook and Twitter friends and fans is the 1st step. Then you need to converse with them.
Lyndsay Walker & Alan K'necht: When you interview designers, ask them what they do about SEO. If they hem & haw, or talk about keyword meta-tags, run the other way.
Ken Dobell:

People are getting better at search
Average search query is growing in length
50% of searches are >3 words
Only 1/3 of them get back an exact match

What jumps off the page is what best mirrors what I typed

3 parts: Appear, appear relevant, be relevant

Local is up 54% Year over Year

Mitch Joel:

How are you? [No response] I'm here, I'm not on YouTube, you can interact.
Putting somebody in charge of Digital Marketing because they're on Facebook is like making me an electrician because I turn on a light.
This is all my contact information. [Shows Google home page]
(Quoting Chris Anderson) Your brand isn't what you say it is, it's what Google says it is. And Twitter, Facebook, LinkedIn, etc.
Most people aren't where they should be right now. I'm not a futurist, I'm a presentist.
Best Perspectives
Bruce Clay:

First brands said we don't need SEO
Then they said OK, give me SEO but don't change my site
Then they said OK, you can change the page title, because that's what SEO is
Best Tweets:
@glinskiii: Idea of the conference – "The Daily Data Dump" – a one-pager for the executive bathroom. (hat tip: @GScottTweets)
@anilopez:

say hello when you enter an elevator should be a social media ranking factor for Google Canada
keywords ranking reports are like royal families, at some point you have to bring back the guillotine to work hard
Best Anecdote:
Mitch Joel: His 3 year old complained that their 50″ LCD TV was broken because it wasn't responding to his attempts to move elements off the screen so he could play Angry Birds.
Best Recaps:
Got more? Help me out by Tweeting me at @GilR with more nominations (and corrections). Thanx!
For more in the series, see: