SMX London was great. Here's the best of the best.
Best Lines & Lessons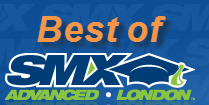 David Burgess: [For Extreme Makeover SEO Edition had to get a site from unranked to page 1 in 3 months]: I was told if I couldn't get the site ranking #1 I'd be sacked. So this is his first and last conference presentation.
Stephen Pavlovich: We're not trying to win awards, we're trying to drive conversions
John Mueller: Google may crawl internal site search with relevant keywords to find content which isn't indexed (hat tip: Kevin Gibbons)
Kelvin Newman: Think about what survey or poll results would people write about and go for it. (hat tip: @DavidCarralon)
Christine Churchill:

Broad match used to be great, but Google kept expanding it and now it's too broad. Modified broad match is you can put plusses in front of the words. +apple +pie your ad will only show up if it has both words with plusses in front of it.
Pay attention to what shows up in Google Instant and Google Suggests when people are typing their search queries.

Craig Danuloff: In paid search, the amount you pay for a click isn't directly based on your bid. Your ranking is affected by it, but your payment is determined by the ad behind you and your quality score.
Max Thomas: Last link building tip: Have Fun! Great content rocks.
Michael Wyszomierski (from Google): [Regarding reconsideration requests] In most cases there is no penalty, it's some other issue. That's why we're sending those messages now [saying there's no penalty].
[Answering: What do you do when a company says "we know we have this problem on our site but we don't have the resources to fix it?]

Mikkel deMib Svendsen: It's like a grocery store saying "we know we have bad food that's old and rotten but we don't have the time to throw it out." Sorry. Building a website takes a lot of time.
Craig McDonald: The only thing I've seen that works is to bring in a 3rd party SEO expert, sometimes they'll be able to convince where you can't.

[Multiple speakers:] More and more sites are getting hacked. Protect your sites! If you're using WordPress make sure you're always on the latest version.
Patrick Altoft [on link building]: Going viral is great. But most people are better off focusing on who they need and giving things that are useful to them.
Best (actually, Worst) Mistakes
Mikkel deMib Svendsen:

Site hosted by RackSpace, suddenly dropped out of search. RackSpace decided that the engines were taking up too much bandwidth so they blocked them all.
An engineer redirected all users who didn't support javascript to a page saying "please install JavaScript."

Richard Baxter: Client wondered why they weren't ranking in Bing. Turns out they'd been blocking the MSNBot for years because it was once overly aggressive.
Jonathan Hochman: robots.txt file on testing server was blocking spiders. Accidentally moved that file over to the live servers, thus blocking their live site. [Find some other solution to keep spiders off your testing servers. Nothing that could accidentally move over].
Best Stats
Greg Sterling: Google site links increase CTRs by 3X
Daniel Ruby: #1 result on Google appears on Bing page 1 67% of time. Page 1 Google results show on Bing's first page 43% time (hat tip: @wordtracker)
David Burgess: 50% improvement using the charity's email address versus a generic email for link building (hat tip: @keyrelevance)
Best Tweets
maxormark: Another "missing" speaker. "A broken ankle" Didn't know SEO was so dangerous
Best Coverage
Got more? Help me out by Tweeting me at @GilR with more nominations (and corrections). Thanx!
Other coverage from SMX London:
For more in the series, see: