SMX Advanced was fantastic! Here's the best from the conference: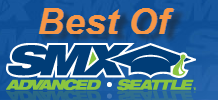 Best Lines & Lessons:
Rhea Drysdale: Why am I qualified to talk about tools? I've built some. I've bought some. And I've dated some.
Matt Cutts: If you're buying or selling links and you think you're being so careful that nobody could ever find out? Remember that the person you're buying from may not always be as careful.
Casie Gillette: Build relationships with the press. It's easier than you think [and than it ever was before] thanks to tools like Twitter and HARO.
Matt McGee: I just got a text from Matt Cutts. I don't know how he got my number. I never gave it to him. He does work at Google, but how would he get my number?
Carlos del Rio: People usually buy emotionally and then justify logically.
Marty Weintraub:

Network with your competitors' community.
Google Plus 2 or 3 things a week about your business. If you can't find 2 or 3 interesting things to say about your business, you're in the wrong business.

Vince Blakham:

For Pinterest, make the images big enough to attract attention but small enough that they have to click through.
Pinterest has been fantastic at generating traffic that converts. [There was general consensus about this at the conference].

Chris Silver Smith: Do everything that makes you look like a trusted brand. Have an About Us page, a machine readable privacy policy, contact page with addresses, terms and conditions, copyright information with recent dates, truste certification, and author profiles. Also make sure you have proper spelling and grammar.
Greg Boser:

If you are in the third party aggregation business, that is a dying model. Google is cannibalizing it like crazy.
Social signals don't generate backlinks. Loyal audience members link. Put out great content on a site with a big audience. If you're small, you need to leverage somebody else's audience to grow. The data on that is just striking.

Bruce Clay: No matter how safe you think you are with links. Find your weakest links, and get rid of them. When you get a message from Google about links, they're usually links you don't even know you have.
Rae Hoffman-Dolan: If you're not using schema.org, find a way to start.
Vanessa Fox:

How many of you have canonical on your site? [Many hands] How many have pagination? [Fewer hands] How many are having problems with it? [Very few hands]. Then why are the rest of you here? Just to tease the people who can't do this?
We have 2 talented SEOs, Adam Audette and Jeff Carpenter to tell you things that they do, and then we have Maile Ohye from Google to tell you why you shouldn't do those things. [Great reference to SMX West 2011 when Maile and Marshall Simmonds faced off]. No, we don't do that here.

Maile Ohye: [Opens with] I've been at every SMX Advanced, and I've learned so much from you, and there's so much that Google has done in response to needs mentioned at these conferences (gives examples). [Closes with] I hope to see you all here next year!
Best Stats:
Jonathan Colman: 40% of customers will abandon any site that takes longer than 3 seconds to load
Matt Cutts: Each redirect costs you about 1% of your traffic.
Chris Silver Smith: User spend 80% of their time above the fold, 20% below the fold.
Greg Sterling: 94% of smartphone users have looked for local information; 90% have taken action
Best Exchanges:
Marty Weintraub: Do all the stuff that bloggers have been doing since 1998. Maybe 1998 is too long ago. Danny, were you blogging in 1998? What did they call it then?
Danny: Writing
—
Danny: What's the most exciting new thing in search?
Matt: We have something great coming out, but I can't discuss it here.
Danny: That's not helpful.
—
Danny: You do these 30 day challenges, like "I'm only going to use Bing for the next 30 days."
Matt: I never did that one, and I'm afraid to try. I try to only do good things. [then throws Bing some props]
—
Bruce: I'm Bruce Clay. I run a company called Bruce Clay. If you get confused, I'm the taller one.
Danny: Little known fact, Bruce Clay isn't his original name. He changed it to that because he was being outranked by the business. On a related note, Google is buying the domain name Alta Vista because that's the only way they can rank for 'search engines.'
—
Rae: In 2006 I wrote a post about how you have to focus on getting links from sites that have your audience. There's nothing new.
Todd: What's new about this is that Greg and I are finally doing it too.
Greg: I was talking to Brian Clark and he said "I've been saying this stuff for 8 years." And I said yeah, but 8 years ago if you just built good content you'd get walloped by sites that were abusing the system, because there was a big gap between what Google said they could catch and what they really could catch. Now, Google's walking the walk.
—
@SEOAware:You know, @mattcutts has this really calming voice. He could be a shrink. He could get his psych degree & counsel all the stressed SEOs.
@mattcutts: @SEOAware I'd be all like "show me where the linkbuyer touched your site" 🙂 … "Matt Cutts, Linkbuyer Psychologist."
—
Seattle Humor:
@vinceblackham: EVERYONE! Look…the sun!! [Sadly, I wasn't on Twitter at the time so I missed it]
—
@sugarrae: 
Dear Seattle, it's June. Love, the clothes I packed. Haha
@KeriMorgret: 
Dear Rae, it's Seattle. Summer didn't come this week.
[BTW, day 2 had beautiful weather]
Best Moment:
Danny delivered an epic rant in the middle of the final session. I think it was building up for a while. Starting with Google pushing paid inclusion programs on specialty searches and denying that this is exactly what they used to condemn. I think he was also frustrated by Matt's insistence that Google wasn't leveraging its search dominance to push sites to integrate Google Plus.
The rant initially focused on people who were complaining about Penguin and looking for easy link building tips. It went something like this. Read it quickly without taking a breath to get a better feel:
When I started doing SEO in the snow walking uphill both ways link building was about getting links from good sites that got traffic. Now it's about getting links from sites that just sell links. When I started Search Engine Land I went to my friend John Battelle who had a very respected site in the industry, and I said you linked to my old site can you link to my new one and he said sure I'll tell my guy to do it. But his guy didn't do it so I kept having to call back and finally he gave me the link but that's when they decided to No Follow them all so I finally got a link that I deserved from an influential contact and it was worthless.
Now people just want to create a ton of directory links. Do you know how directory links and paid inclusion started? You tried to get yourself listed in a directory because that's how people found you. And there were three directories, Yahoo, Open Directory and Look Smart. And Google came and said we don't need directories you can just search but they said you can keep submitting yourselves to directories because that will help us find you but they just meant those three directories but they created a situation where all these other directories popped up and people got themselves listed in them because Google said you should get yourselves listed in directories. So now we have 1500 directories and Google just banned them all.
—
That was the gist. Barry Schwartz said it was worth the conference price just to hear that rant. The panel looked stunned, the Twitter crowd loved it. It was fun.
Update: Bruce Clay said "want to get links? If you made a video of that rant and posted it you'd get tons of links." Well, no video has surfaced yet but Web Simple got the audio. I'll prove Bruce right by linking to it.
Random Thoughts:
Good marketing starts with listening and learning. Some would say stalking, but let's not get judgmental. First use of social tools: Learn about the people who might use your service. Then engage. Too many guys see social tools and say, great, how do I broadcast my message on this?
A lot of excitement about Pinterest for driving revenue-generating traffic.
Search engines are moving from strings to things, from keywords to entities. They'll never fully get there. But the semantic web is big and getting bigger. There are some big opportunities here for many companies.
Google keeps getting better. General consensus that the smart money is playing by the rules.
Google is getting scarier. There was a lot of concern that the paid inclusion on specialty searches is a harbinger to Google taking over the business of 3rd party aggregators, and demanding that vendors pay to play. Google is getting more punitive in their penalties and negative ranking factors. They've won the showdown at the OK Corral, they've mostly tamed the Wild West, and now there's some question as to whether or not they'll use their power for good. Said differently, now there's more concern about the channel conflict of Google being a marketing channel for websites, while increasingly competing with those websites.
White hat advanced exists. In the early days of SMX Advanced, some felt Advanced = Black Hat. Well, now Advanced = Schema.org, Pinterest, social presence, great content, attracting influencers, PR, marketing, tricky technical issues, and getting to wherever Google is going next. It was an advanced conference with a lot of good info. And it was almost all white hat.
—
Hat tips to Merry Morud (@MerryMorud), Michael King (@iPullRank), Akvile Harlow (@AkvileHarlow), Will Scott (@w2scott), Barry Schwartz (@rustybrick), Lauren Litwinka (@beebow) and Rena Reich (@RenaR) from whom I've shamelessly stolen some coverage. Follow them.
Best Coverage
[BTW, Lisa, we miss you]
—
What did I miss? Let me know in the comments or by Tweeting to @GilR or with #BestOf #SMX.
Here are the best lines from some other great conferences: