And now, we reach the end … SMX Toronto concludes with Next Generation Agency: Search, Social, Viral, Mobile and Analytics
Moderator:
Jeff Quipp, Search Engine People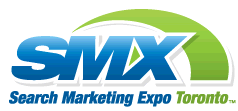 Speakers:
Glad to hear Warren Raisch starting, loved his last session.
The invisible children story: Case Study
Some young aspiring film makers came in. They went into Uganda, trying to uncover the story of what was going on. They inadvertantly walked into a story of the army was just taking kids in the middle of the night, and putting them in the front to see where they got shot to see where the enemy was. They managed to film this and get the film out of the country.
They set up a website, sent them out on their RV, and made appointments with 250 schools. Issue a challenge to the people who say they want to do something. Get their mobile phone numbers, tell them to have a sleeping bag under their bed, and be ready to move when they get the text message.
They got over 100,000 kids to hit the street, and come to government buildings and parks. They started a program called Schools for Schools and started a program to help rebuild those communities, and to pressure the government. Multiple touch points. They had success and failure stories. The donations were converting very well. They moved it to Facebook. That failed miserably. Moved that back to the website. Campaign used everything. Print, web, social.
Jeff: There was a study that fully 2/3 of searches were a result of something people saw offline. Just one more proof that we need to integrate.
And now we're up to Paul Kraemer, from Digital Cement.
XM Radio iPhone App: Case Study
Solution included:
Branding strategy
Messaging
Media plan: online, mobile, offline
Landing pages for registration process
Managed and optimized
They used:
Paid search (English & French, Google, Y!, and MSFT)
Social Media
e-mail
Display
Utilized a QR code, and did a blogger outreach program. Strategy was to get as high as they could get in the App store.
Results:
Generated 5 times the number of trials as previous year
Ranked in top 100 free apps over a 4 week period
Optimized conversion by 30% – 40%
And finally, Ross Jenkins [Hey Ross, get me a picture!].
The Pass Through Effect
[Good, he's a dynamic speaker.]
When people move from one medium to another, the engagement changes.
Engagement is non-linear. Digital experiences are interconnected.
Current tools lead us to measure in straight lines.
We speak of success in terms of page views, clicks, searches, visits
Change or lift behavior.
The digital experience is measured in two ways:
Traditional site analysis. Single experience focused. Snapshot.
Pass Through Effect. Actions over time.
Measuring in-between the digital spaces. Need to compare with those that weren't exposed. Must subtract organic growth to understand true lift.
It works for multiple properties too.
Embrace behavioral data.
Had a 263% lift after exposure to their campaign on a game site.
200% lift in purchaser intent on microsite.
Summary: Measure differently. Don't focus on the individual session or interaction, must look beyond.
[Which nicely brings us back to where we started. One of Avinash's key points in his keynote was that we have to look beyond the session. Even on PPC, people don't usually convert right away. Then Bryan Segal came and talked about how search advertising must focus less on Direct Response, and more on creating relationships and converting later. So Ross concludes the conference talking about the same ideas, the need to measure the user & the outcome. Don't focus on converting in one session or on one platform, but rather form the relationship, and convert later. This BTW is also a shift we have in link building, that's now more about relationship building rather than on buying or begging for individual links (as Gab Goldenberg discussed nicely at SphinnCon last month). Final thought: As Rob Garner pointed out earlier, the thought of Social Media as this external thing is the wrong way to think. Search is getting more social, the internet is getting more social. It's less about drive by's and one nighters and more about relationships. And that's a note on which I'm happy to end this conference].
More SMX Toronto Coverage: